What is Powder Coating?
Powder coating is a new type of 100% solid powder coating which does not contain solvents. With no solvent, no pollution, energy and resources saving, recycling, environmental protection, higher performance, low health risk to workforce, economical advantages etc.
Most powder coating is used by electrostatic spraying on metal surface, and then cure in oven, eventually form a solid layer.
Categories and Performances of Powder Coatings
♦Epoxy resin powder coating: Mainly used indoor, offer the best corrosion protection
♦Polyester resin powder coating: Mainly used outdoor, offer the highest exterior stability and performance
♦Epoxy Polyester Hybrid powder coating: could be used indoor or outdoor, offer the best corrosion and weather resistance
Application
| | |
| --- | --- |
| Electrical Household Appliances | Aerospace Area |
| Automotive Electronics | Fitness Equipment |
| Track Traffic | Medical Devices |
| Petroleum Pipes, Valve | Tools & Hardware |
| LED Lights, Outdoor Lamps | Radiator & Heat Sink |
| Glass Decoration | External Facilities |
Product Specification
| | | |
| --- | --- | --- |
| Test Item | Test Method | Test Result |
| Film Thickness | ISO2360 | 60-80um |
| Pencil Hardness | ASTMD 3363 | H-2H |
| Bending | ISO1519 | ≤10mm |
| Grid Test 1mm | ISO2409 | 0 CLASS |
| Impulse Test | ASTMD2794 | Pass |
| Cupping Test | ISO1520 | ≥8mm |
| Heat Resistance 1000 hours | ISO6270-1 | Popping<1mm |
| Salt Spray 1000 hours | ISO9227 | Corrosion Spreading<1mm |
Introduction
Jinhu Color Powder Coating co.,Ltd has more than 10-year' experiecnce in producing the powder coating.
With experienced technology , we have achieved a good reputation at home and abroad.
Main composition
The bulk powder paint is mainly made of epoxy resin,polyester resin and curing agent, leveling agent, pigment, filler and other addictives. it has super chemical resistance and mechanical properties. It can be used in painting those metal products that have special requirement of corrosion resistance, electric insulativity and pliability. Directly outdoor using is not to be suggested.
Application
· Pipeline industry: anti-corrosion pipeline, Oil pipeline, sewage pipe, vessel water pipe, gas pipe and valves etc.
· Metal furniture: Steel furniture, documents cabinets etc.
· Kitchen utensils: gas cylinder, gas cooker, kitchen ventilator etc.
· Construction industry: door lock, rebar and steel moulding plate
· Electrical industry: Electronic spare parts, winding coil, and insulation coating of the rotator etc.
Products series
· Available in standard curing and lower temperature curing
· Available in multi-colors, different gloss level such as high gloss ( above 90°), flat gloss( 70-80°), semi gloss ( 10-60°), matt( below 10°), particular color and gloss is made according to customers requirements.
· Available in various kinds of art textures, such as sandy, wrinkle, lanose grain, hammer tone, metallic effect etc.
Physical property
Specific gravity: 1.11.8g/cm3 (varied with different color and gloss)
Particle size: average 10~38um, proportion 10~84um > 90%, it can be adjusted if special requirement is put forward to us in advance.
Curing temperature
Standard type: 180oC/15 minutes
Or 160oC/20 minutes, 200oC/10 minutes if customer require
Pre-treatment
The overall quality of the coating system is largely dependent on the type and quality of the pre-treatment. The recommended types of pre-treatment for the most frequently used substrates are:
| | |
| --- | --- |
| Aluminium | Chromate conversion |
| Steel | Zinc phosphate |
| Zinc coated steel | Zinc phosphate or chromate conversion |
Average coating rate
A. Smooth Surface:
6-12/KG, film thickness 60μm (calculated according to 100 consuming of powder coating)
B. Texture Surface:
5-7/KG,film thickness is about 80-120μm
Film performance
Test Item

Test standard and Method

Test index

Impact resistance

GB/T 1732 -1993

ISO6272

50kg·cm

Adhension(cross-cut)

GB/T 9286 - 1998

ISO2409

Class 0

Flexibility

GB/T 6742-1986

ISO1519

2mm

Pencil hardness

GB/T 6739-1996

ISO2815

1H-2H

Cupping test

GB/T 9753-1988

ISO1520

6mm

Salt spray resistance

GB/T 1771-1991

ISO7253

>400 Hours

Heat & humidity resistance

GB/T 1740-1979

ISO6270

>500 Hours,film gloss slightly lose

Note: 1. Above test are using 0.30mm thickness degreased, rust removed cold rolling steel plate, film thickness is 60-80um.

2. Film performance may slightly decrease with gloss decrease.
Package
Carton packing with liner of double polyethylene bags, Net weight 25kg each.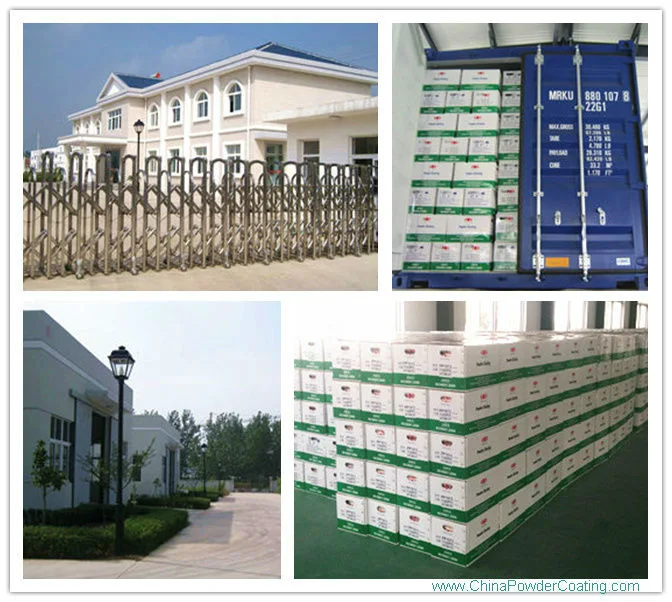 Storage and shippment
The bulk powder paint must be stored in ventilated, dry and clean room with temperature below 25oC, Keep it away from fire, heat,and direct sunlight. Outdoor stacking is prohibited. Avoid rains and exposure to sunshine during shipment.
Health and safety
The bulk powder paint is no hazardous ingredients contained. Wearing anti-dust mask and goggles to avoid inhalation of dust. Try best to avoid longtime contact with powder. The coating adhesive to the skin can be washed with soap.
If you need more details, please feel free to visit our website: evercoatings.en.made-in-china.com
Contact me: